Obituary for Keri Ann Teel
As a little girl, Keri was very shy. She wouldn't even go get her kindergarten diploma when they called her name cuz she didn't want anyone looking at her. As she got older she overcame some of those inhibitions a little, but she still struggled with being an introvert when she became an adult. At age 13-14, Keri was a "New Kids On The Block super fan. They were the "cat's meow" and she actually got to see them live perform in Tulsa at Skelly Stadium. She loved movies of all kind; Sci-FI, scary, Romance, Comedy, Action Packed. She loved them all, and she had a huge collection of DVD movies she had purchased and watching them was a favorite past time. In teenage years she loved cruzing main and just hanging out with friends and she made friends everywhere she went. She always had a car full of kids plus a car full of girls staying the night. A weekend never went by without having someone for a sleepover. It always included her best buddy and cousin Kimberly Mae. She always had one or two friend that came from a home where there were struggles and she always had a heart to help them. She was a Pryor High School graduate like her mom and dad.Keri loved life, people, friends, family and was always doing things for someone. At different times, she brought home two friends and asked me, "Mom can she please live with us until she finish high school?" Both of these girls had lived with their family members who were moving and they both wanted to stay in Pryor and finish school in Pryor. So, one stayed for two years then graduated, the other for about 9 months as then graduated. Keri loved her friends and felt compassion for them, and couldn't bear that they wouldn't be able to finish at Pryor like they both so wanted so she felt her duty to help them. That was who Keri was. She loved in big ways and always seemed to befriend girls that had hardships they'd endured, and she always helped them in one way or another. Keri loved Mexican food, and especially loved going to Olive Garden with her mom and Grandma or dad. She loved to go out and eat breakfast together with family; these these times were important to her. Her parents did foster care for 12 years and she often spent time trying to mentor her many foster brothers and sisters. She enjoyed doing fun and things with them and entertaining them. One of her favorite things to do was swimming. She often would rally the family or friends together to go to her favorite swimming place, Blue Hole. Another one of her favorite things was attend the big Palmer Family Reunion at Fin and Feather Resort by Lake Tenkiller. It's a family tradition that's been ongoing for over 25 years. She would get so excited to go. She loved every part of it. She really enjoyed the big water balloon fight at the end and would always take plenty of ammunition for the event. Family was the number one thing for Keri. It was very difficult for her when she was no longer able to attend or do these things with her family due to numerous limitations from her illness. One thing she loved the most was talking or reminiscing about family and days gone by. Her Uncle George was a big topic she always enjoyed reflecting on as he had previously passed away. She would tell funny stories about him that she either experienced or had heard told by others, and she loved and missed him very much. Her family gave her great pleasure and especially playing with nieces, nephews and buying gifts for them. She truly enjoyed bestowing gifts on just about anyone, but especially family and her mom and dad. She did it a lot. Keri's brother and sister lived in Denver, but when they came for a visit it was a huge highlight for her as she dearly loved Amy, Jason along with her nieces and nephews. A couple of years ago a friend, Art, had a tragedy. His home burned and he lost his mom. She called her mom and gave swift instructions on calling him and finding out what he needed because she wanted to help this family. That's who she was! Always helping or wanting to help someone. She loved her Grandma Norma. She called her Gannyma just to tease her. They were best buddies. Keri lived with her about 3-4 years after she moved from her apartment. She wanted to help Grandma so she would not be lonely, and Grandma wanted to help take care of her. She would often say that Grandma was her best friend. She loved going swimming at Blue Hole, listening to music, watching movies, collecting and watching movies. She also loved all the pets we had but especially her little dog Freckles. Keri was 38 years old when she passed. She was diagnosed with Lupus in 1998, eight months after her high school graduation. In the past 19 years she has spent most holidays like Christmas in the hospital. With each passing year her health continued to worsen. However, Keri and her family made the most of it. With the families help, holidays were spent right there in the hospital with her. This became her normal; missing events she loved like Christmas, her sister's wedding, family reunions, her grandparents funerals, and many other things she either loved doing or wanted to be a part of. But, no matter how hard she would rally through it as long as she had her family by her side. She battled her health for 19 years dealing with so many side effects of this disease, especially the pain. Being sick and in hospital so much resulted in no longer being able to hang out with her friends or even see most of her friends. After being sick so long, people, understandably, quit coming to visit, They had their own children to take care of and were busy with their own lives raising their own children. One thing Keri regretted so much was her inability to have a child of her own. However, she said that her little dog Freckles was her like her baby and she called herself "momma" to that dog and her and her dog loved each other very much. Her struggles continued to worsen, as she had to be put on with dialysis, had a tracheotomy causing her to be permanently mute, and finally dependent on a ventilator which caused her to spend the past two years of her life living in a nursing home approximately two hours away. This was probably the one thing that she disliked most about being so sick because this disrupted family time and visits due to the distance she was from home. It was her toughest time, being that far from her mom and daddy. But through it all Keri stood strong and battled through. She died on Jan 26, 2017. She will be so missed, but will live on in our hearts forever.

Memorial services for Keri will be held at 2:00 p.m., Friday, February 3, 2017 in the Ketchum Seventh Day Adventist Church with Pastor James Rainwater officiating. To leave her family a message, please visit her Tribute Wall at www.shipmansfuneralhome.com. Arrangements are under the direction of Shipman' s Funeral & Cremation Service.

She is survived by her parents, Joe Don and Sharla Teel of Adair, Oklahoma; brother, Jason Teel of Orlando, Florida; sister, Amy Teel Martinez of Denver, Colorado; uncle, Rodney Caldwell and wife Jaqi of Sand Springs, Oklahoma; Aunt, Judy Wood of Pryor, Oklahoma; nieces and nephews, Brandon Hunter, Anthony and Aleciana Patterson, and Ivy Crofford; cousins, Kenneth Russell Green, Rechielle & Shawn Blackwood, Melanie Caldwell, Stacie & Gilbert Downing, Keith and Chiyo Caldwell, Landon Caldwell, Shawnna Caldwell, Jeremy & Christine Nelson, and Heather Neighbors and many other Relatives from the Palmer, Caldwell, and Teel families. She was preceded in death by her uncle George Wayne Caldwell, paternal grandparents Joe Teel & Delores Teel Plumlee, Maternal Grandparents Carroll W. Caldwell, Norma L. Caldwell, Paternal Great grandparents Henry and Edith Teel, William & Jessie Landis, Maternal Great Grandparents, Henry & Pearl Caldwell, and George & Lexie Palmer
To send flowers or a remembrance gift to the family of Keri Ann Teel, please visit our Tribute Store.
Previous Events
Service
Seventh-Day Adventist Church
35369 S Highway 82
Vinita, Oklahoma 74301
Cemetery Details
Location
Benge Cemetery
.
Strang, Oklahoma .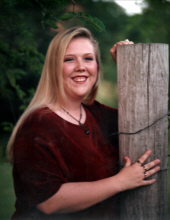 Thank you for sharing your
memory of Keri
Provide comfort by sending fresh
flowers from our local florist.
No thanks, please don't show me this again.